Monthly Archives:
June 2013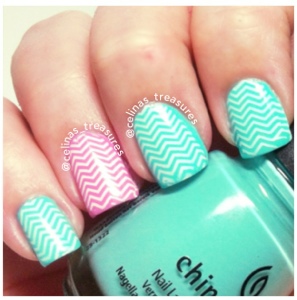 Today's nails
I was working on a different design on my left hand today, which is mostly stamping nail art. Combining several stamps. So I felt like I really needed to practice my stamping skills. So, of course my right hand becomes my practice hand today

What I used for this mani:

- China Glaze Too Yacht To Handle.
- IsaDora Rosette
-Konad special polish in white (for stamping)
- BundleMonster stamping plate BM-201
- Seche Vite top coat.
Hope you like it

Feel free to follow me on Instagram.com/celinas_treasures